Elaflex YellowBand ERV-G Rubber Bellows
---
The Elaflex YellowBand ERV-G rubber bellows features an NBR (nitrile), seamless, abrasion resistant liner with PA textile cord reinforcement and Chloroprene CR cover. Suitable for petroleum based products, fuel ethanol blend e.g. E 85 and DIN EN fuels up to 50% aromatic content, also town gas and natural gas, except for LP gas. The YellowBand ERV-G is available from DN25 to DN1000 with a wide choice of configuration, flange and restraint options:
PRODUCT GUIDES
Elaflex Rubber Bellows
What is an Elaflex ERV-G Rubber Bellows?
Nitrile for oils and fuels...
Materials
Nitrile NBR, swivel flanges as standard in zinc plated carbon steel.
Application
Petroleum products and fuels with up to 50% aromatic content , also water contaminated with oils.
Rating
PN16 to DN400, PN10 to DN1000 -20°C up to +90°C, temporarily up to +100°C. Electrically dissipative.
Approvals
DNV / LR / BV / ABS / CCS / RINA.
How to select an Elaflex rubber bellows
---
1 Temperature & Pressure
2 Rubber Compatibility
3 Diameter and Length
4 Flange Drilling & Restraints
5 Movements
6 Let us help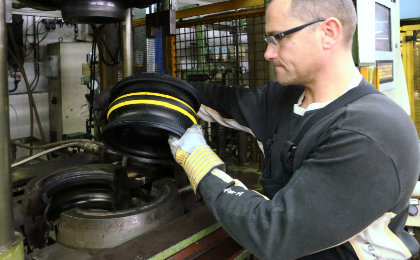 Temperature is the most critical as it directly influences the choice of rubber - but also the actual pressure capability of the bellows. The stated maximum rated pressure is maintained up to around 50ºC for most rubber bellows, for higher temperatures check the data in the Range tab.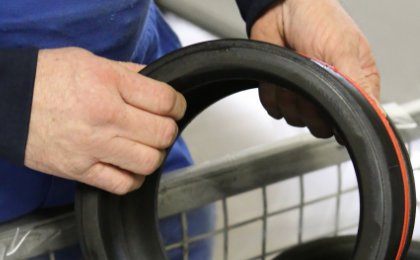 The rubber compound used for the inner layer of the bellows must be compatible with the working fluid. Drinking water requires a WRAS approved EPDM, oils require Nitrile and so on - our
Bellows Finder
can help you with finding the right rubber.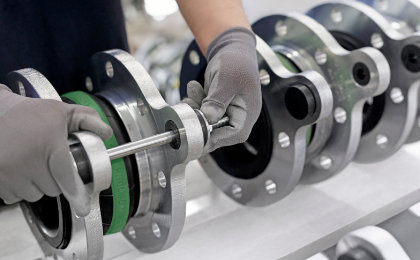 Moulded bellows are manufactured in set combinations of diameters and lengths. However, our handmade
Safetech
range can be manufactured in any diameter and length to suit your application, only the more standard sizes are shown on the
Safetech
range tab.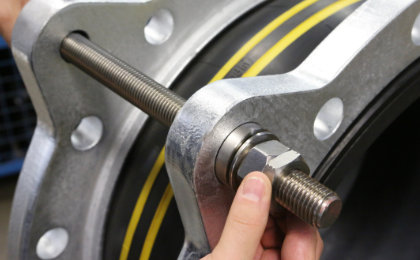 Any flange drilling can be supplied; if you are uncertain about what you already have installed our
Flange Finder
will help you identify it. The HVAC and Elaflex ranges have swivel flanges; the Safetech range has full face rubber flanges. Our
web shop
stock is PN10/16. Bellows will exert a pressure force on the pipe (see
FAQ
) which must be restrained or absorbed at the piping anchors. All our flanged rubber expansion joints are available with tie rods and we can offer hinges or gimbals on the Elaflex and Safetech products.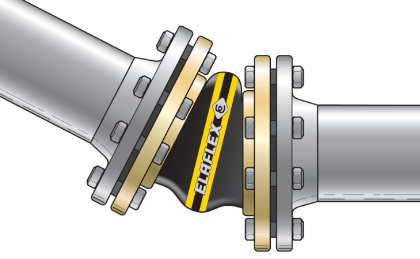 Moulded rubber bellows have a defined movement range, which is shown for each type in the Range tab, movements listed are non-concurrent (see
FAQ
). A Safetech bellows will be designed to meet your required movements.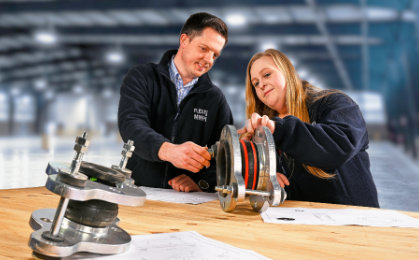 Call our expert team on
+44 (0) 1384 881188
or email us at
sales@flexej.co.uk
or use
Live Chat
on this web site - we are here to help, please get in touch.
Can't see what you want? Need help?
Call us. Or use Live Chat.
For instant advice. We can custom-design and engineer almost any expansion joint you need for delivery in the UK or worldwide. Call our expert team on +44 (0) 1384 881188. Or email us sales@flexej.co.uk
YellowBand ERV-G standard restraint options:
---
FlexEJ has tie rod restraint options in stock for the YellowBand bellows range. Angular and other configurations can be engineered to your exact requirements, however complex:

Got a quick question?
Use Live Chat. Or call us.
For instant advice use the Live Chat link to message one of the sales team. Or call them direct on +44 (0) 1384 881188
YellowBand ERV-G comparison chart
---
Is the YellowBand ERV-G the best option for your application? Three potential alternatives to consider:

Nitrile liner
Nitrile liner included
Is this bellow suitable for oils, fuels and oily water?
High aromatic
Aromatic restistance
Is this bellow suitable for fuels with up to 50% aromatic content?
Fire rated ISO 15540
Fire rating
Is this bellow fire resistant to ISO 15540 up 30 min. at + 800° C.?
Low Temp
Low temperature rating
Is this bellow suitable low temperature applications and cold ambient conditions?
LPG to EN 589
LPG to EN 589
Is this bellow suitable for LPG and gases with high pressure ratings?
Rating in barg/°C
Pressure & temperature
What is the required pressure rating (in barg) compared to temperature rating for this bellow?
Elaflex
YellowBand
Rubber joint


16/50° to 10/100°
Elaflex
YellowSteel
Rubber joint


16/60° to 10/100°
Elaflex
YellowBandLT
Rubber joint


16/50° to 10/100°
Elaflex
OrangeBand
Rubber joint


25/50° to 15/100°
Not sure what flange spec you need?
Use the FlexEJ Flange Finder to find out
FlexEJ stock a full range of specs and types for our bellows. Or call our expert team on +44 (0) 1384 881188.
Who can you talk to?
---
Try our sales and customer service team on 01384 881188
They don't bite. And they know what they're talking about. Call the team any time from 8:30am to 3:30pm weekdays, 12:30pm Fridays or use LIVE CHAT if you would prefer a quick text answer. For more complex queries, send us any pro-forma documentation using the get a quote form below or email us sales@flexej.co.uk.
Can't quite find the right bellow?
Try the FlexEJ Bellows Finder
Or call our expert team on +44 (0) 1384 881188
Frequently Asked Questions
---
Please visit our full
FAQ page
to see all our frequently asked questions.
Need a detailed quote?
Get A Quote. On us.
We will provide full technical details together with, pricing and shipping timescales. For more complex engineered quotes, preliminary sketches and calculations will be available.
Got a quick question?
Use Live Chat. Or call us.
For instant advice use the Live Chat link to message one of the sales team. Or call them direct on +44 (0) 1384 881188
Get A Quote
---
Please complete the short form here and we'll get back to you within 24hrs Monday to Friday (quicker if marked urgent).
Alternatively, you can also call our expert team directly on +44 (0) 1384 881 118 from 8:30AM to 4:30PM weekdays (12:30PM Fridays), who will be only too pleased to talk through your requirements and technical queries over the phone.
Visitors are also welcome Monday to Friday although please get in touch beforehand to let us know you're coming.
Industry experience
FLEXEJ Ltd was formed in 2002 by two professional engineers who brought together an already highly respected design capability with business and commercial skills gained in large multinational companies.
Our focus has always been on application and design – helping our customers find the best value solution.
We have a strong engineering and manufacturing team with experience in petrochemicals, refining, nuclear, desalination though to HVAC.
The team is also very familiar with meeting complex requirements for documentation, in process NDT and test on projects. We have supplied many large end-users such as EDF, Exxon, Shell, Reliance & QatarGas working with major contractors such as JGC, Foster Wheeler & Technip.