Industry Experience
Design, application, industry & international outlook.
ISO14001 Accreditation
FlexEJ has an accredited Environmental Management System.
Join the Team
Please get in touch if you are interested in new opportunities
A Pressure Vessel? Really?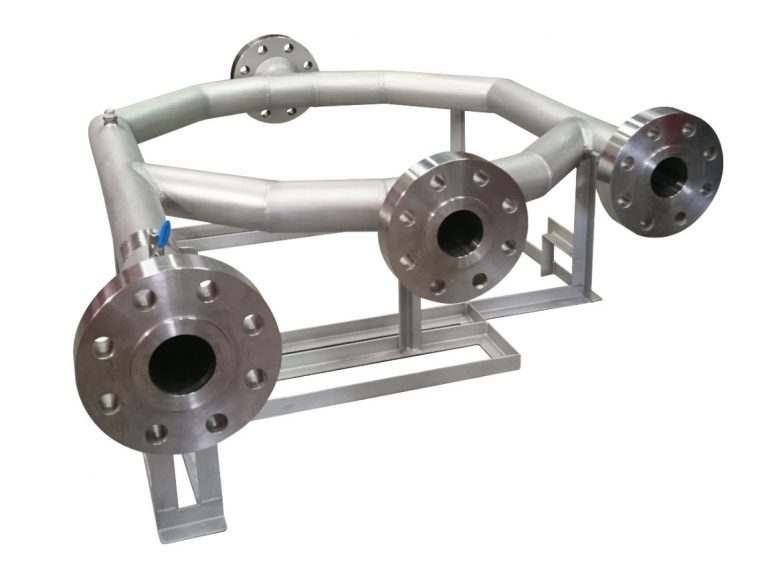 Not what you would normally expect a pressure vessel to look like? This unusual toroidal design was driven by our customer's requirement to pressure test high technology components at high pressure but with minimum foot print and floor load in their test cell.
Designed and fabricated entirely by FlexEJ's in-house team, it's been a long and successful project for us.
Working in close partnership with our customer over many months, using SolidWorks 3D modelling and extensive Finite Element Analysis, our engineering team came up with this shape as the best way to meet all the design constraints. It's light and compact yet capable of operating in excess of 120Barg.
Fabricated in 5" 304 SS pipe with 100% X-ray Weld examination; dimensions are approximately 2.6m long x 1.6m wide. The flanges are all 1500# and act as the test ports. Complete with the stainless steel support frame underneath designed with ease of installation in mind.
FlexEJ specialises in high specification pressure vessels and pressure fabrication in general; if you have a project in mind, our in-house design team is always pleased to discuss.
Please call Danielle Jobe or our anyone in our technical sales team on +44 (0) 1384 881188 or drop us an email sales@flexej.co.uk.